WK8 Ultra Smart Watch Price In Pakistan
Looking for Imported and Branded Top-Notch Quality Smart Watch In Pakistan? We'll Deliver the Best Quality With Lowest Price Smart Watches. DMarket.Pk will Never Be Beaten on Choice, Quality. There is a Bunch of Reasons why our Customers Keep Coming Back!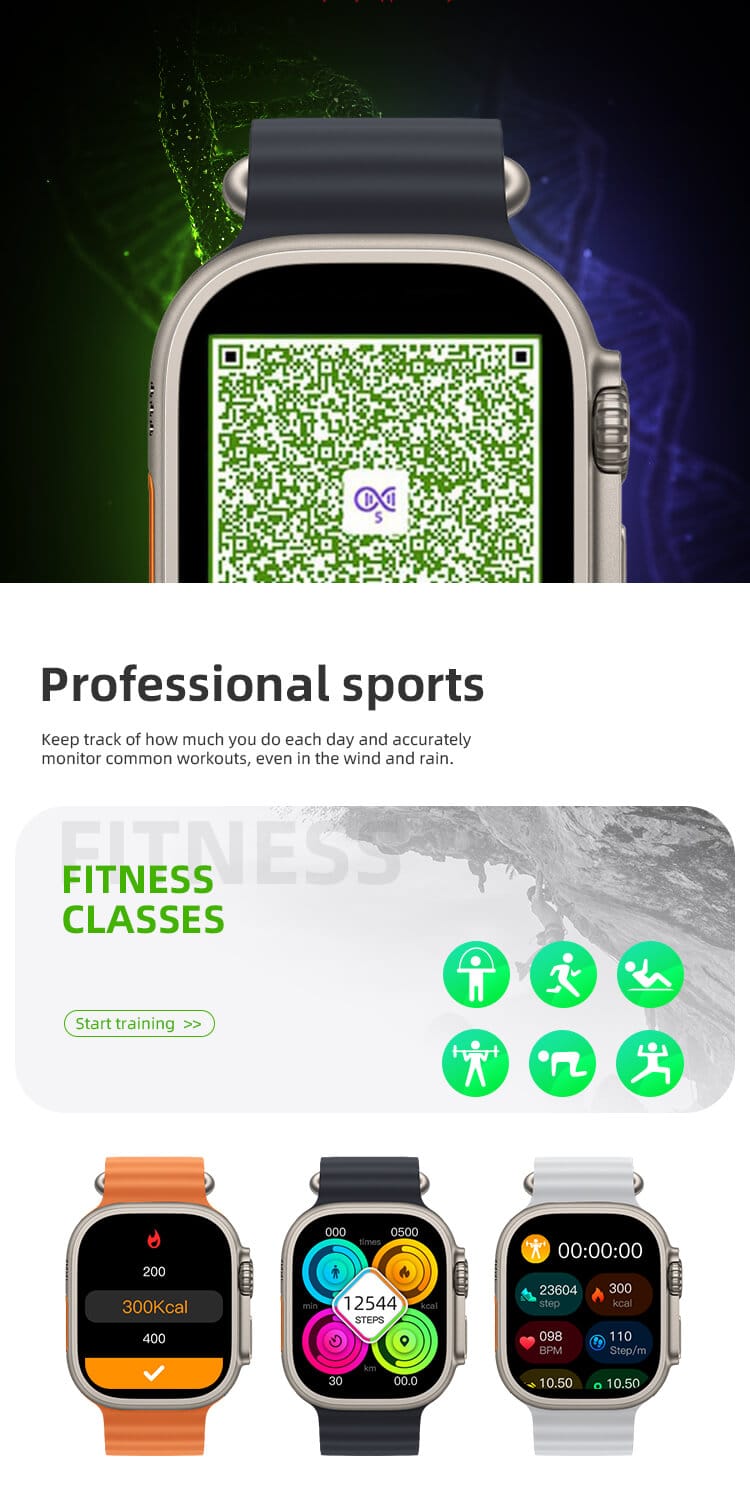 ---
WK8 Ultra Smart Watch Specs
Model Number: WK8 Ultra

Certification: RoHS, CE, FCC, etc.

System Requirements: Android 5.0+ / iOS 10.0+

Master Chip: HS6621PG

ROM: 128MB

Bluetooth for Calls Chip: AB5376A2

Bluetooth Version: 5.2

Screen Display: 1.91 Inch Square Screen 240*296 TFT

Standby Time: 25 Days

Usage Time: About 7 Days

Button Method: Full Screen Touch

Motor: Pie Motor

Charging Port: Wireless Charging

Waterproof Level: IP67

Sensor: G-Sensor 3 Axis

Local dial: 6

Dial Market: 50+

Menu Style: 4

APP: WearFit Pro
---
WK8 Ultra Smart Watch Features
Looking for a stylish and feature-packed smartwatch? Look no further than the WK8 Ultra Smart Watch! This cutting-edge device boasts a range of impressive features that make it the perfect accessory for any tech-savvy user. Here's everything you need to know about the WK8 Ultra smartwatch.
As you see in the picture above, this new WK8 Ultra comes in a square shape that looks stylish, fashionable, and fits men and women. Measuring 49*43*12mm and weighing about 53g. There are three physical buttons on the right side of the case. It is responsible for the function of turning on the running back. The reverse side of the device received a typical configuration – there are magnetic contacts for charging and a heart rate sensor.
The WK8 Ultra smartwatch body is made of titanuim alloy with PC plastic while the strap is available in silicone. Regarding the display screen! This WK 8 Ultra smartwatch uses a 2.05-inch Large IPS touchscreen curved with 2.5D glass and is created with a resolution of 520*580 pixels. This Apple Watch Ultra Clone is also packed with various watch faces and is available in black, white, green, orange, and yellow colors.
App:
The WearFit Pro app enhances the watch's functionality and user experience, allowing users to easily track their fitness goals, set reminders, and more.
In summary, the WK8 Ultra smartwatch offers a range of features that make it the perfect choice for anyone looking for a sleek and powerful smartwatch. With compatibility with both Android and iOS devices, heart rate monitoring, customizable dial options, and a powerful processor, this device is a true powerhouse.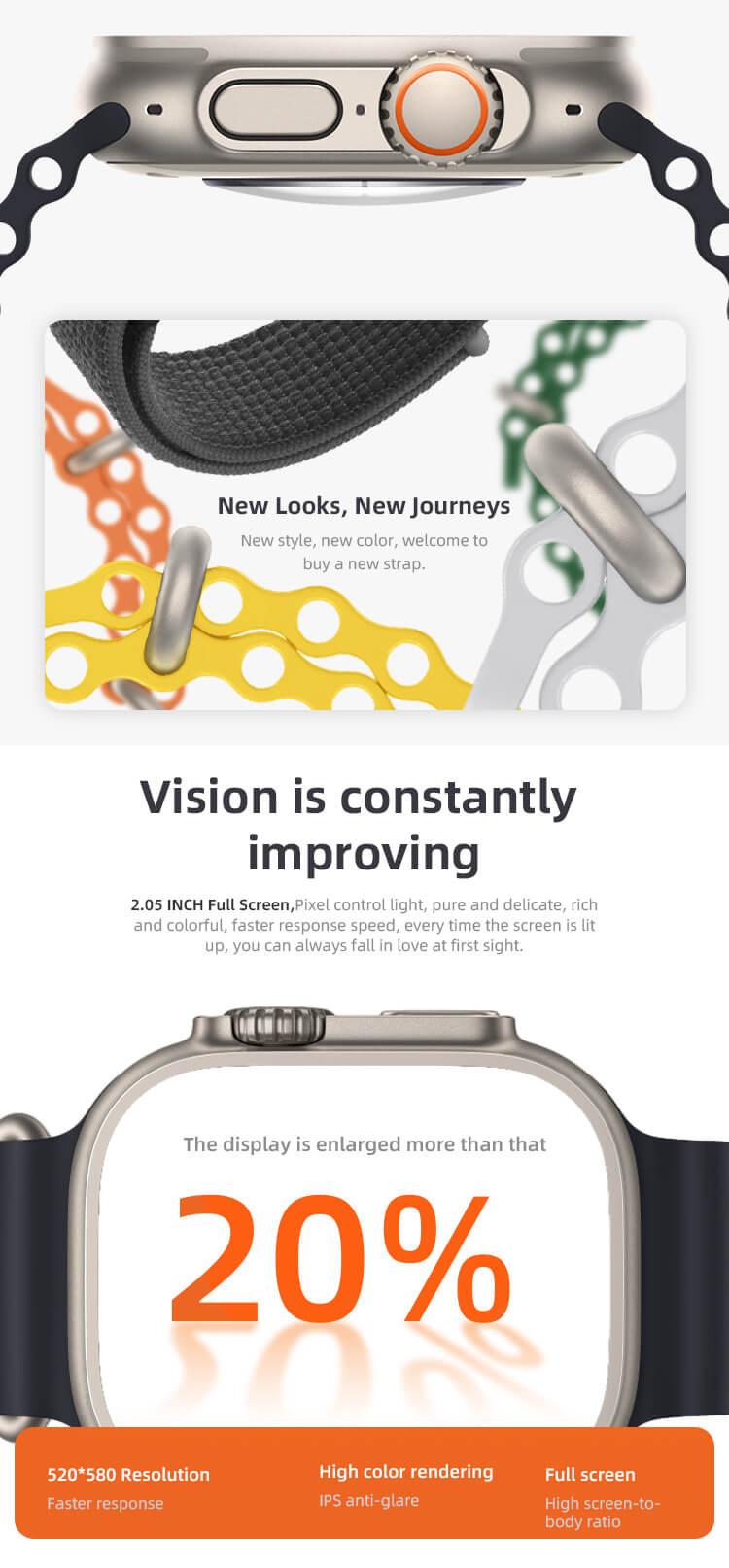 ---
WK8 Ultra Smart Watch Battery Life
Smartwatch battery life can vary depending on the model and usage habits. Generally, most smartwatches have a battery life that lasts between one to three days. However, some high-end models can last up to a week or even longer.
Factors that affect smartwatch battery life include the size of the battery, the features and apps that are being used, the screen brightness, and the frequency of notifications. To conserve battery life, it is recommended to turn off features that are not needed, such as GPS or cellular connectivity. Additionally, reducing screen brightness and disabling unnecessary notifications can also help extend battery life.
It's important to note that battery life will also depend on how frequently the user interacts with the watch. Frequent use of features like heart rate monitoring or music streaming can drain the battery faster.
To maximize the battery life of a smartwatch, it is recommended to charge it regularly and use power-saving modes when available. It's also important to use the charging cable and adapter that come with the watch to ensure that it is charged properly and efficiently.
---
WK8 Ultra Smart Watch Buying Guide | Expert Opinion
A smart watch is a wearable device that provides many functions beyond telling time. It can connect to your phone, track your fitness, receive notifications, and more. With so many options available in the market, it can be overwhelming to choose the right smart watch. Here's a quick buying guide to help you make an informed decision:
Compatibility: Make sure the smart watch is compatible with your smartphone's operating system, whether it's Android or iOS.
Display: Choose a display that is easy to read, whether it's a traditional watch face or a touchscreen.
Battery Life: Look for a smart watch that has a long battery life, so you don't have to charge it frequently.
Design: Consider the size, color, and style of the watch to find one that matches your personal style.
Features: Determine what features are most important to you, such as fitness tracking, heart rate monitoring, GPS, and mobile payments.
Price: Smart watches come in different price ranges, so decide on a budget that works for you.
Brand: Choose a reputable brand that offers good customer service and warranty options.
In conclusion, consider the above factors when choosing a smart watch to find one that fits your needs, lifestyle, and budget. With the right smart watch, you can stay connected and track your fitness goals on the go.
Smartwatch for kids:
Designed specifically for children with child-friendly features

Comes with parental controls to limit access and monitor usage

May include GPS tracking for location monitoring

Often has games, educational apps, and other fun features for kids

Typically have bright colors and playful designs
Smartwatch for boys:
Often designed with rugged features and sporty designs

May include fitness tracking features for monitoring activity levels

May include features such as GPS tracking, text messaging, and music playback

May have interchangeable bands to personalize the look
Smartwatch for girls:
Often designed with stylish and fashionable features

May include fitness tracking features for monitoring activity levels

May include features such as text messaging, social media access, and music playback

May have interchangeable bands to personalize the look

Often come in colors such as pink, purple, and other pastel hues
---
Why DMarket.Pk is the No-1 Smartwatch and Gadget Selling Online Store in Pakistan?
DMarket.Pk has earned its reputation as the No-1 smartwatch and gadget selling platform in Pakistan for a multitude of reasons. From the quality of our products to the exceptional customer service we provide, we continuously strive to exceed the expectations of our customers.
We understand that buying smartwatches and gadgets can be a daunting experience, which is why we prioritize transparency and honesty in all of our dealings. We offer a wide range of the latest smartwatches and gadgets from leading brands, ensuring that our customers have access to the latest technology in the market.
At DMarket.Pk, we are dedicated to providing our customers with a seamless shopping experience for smartwatches and gadgets. We offer convenient payment methods, secure transactions, and fast delivery services across Pakistan. Our knowledgeable and friendly customer service team is always on hand to provide assistance and support to our valued customers.
We take pride in our commitment to quality for smartwatches and gadgets, which is why we offer only the best products that are thoroughly tested and vetted for their durability and performance. Our products are not only of the highest quality but also affordable, making it easy for anyone to access the latest smartwatches and gadgets without breaking the bank.
With a focus on customer satisfaction, we continuously improve and innovate to provide our customers with the best possible experience when buying smartwatches and gadgets. Our dedication to excellence has earned us the trust and loyalty of our customers, making DMarket.Pk the No-1 smartwatch and gadget selling platform in Pakistan.
---
Disclaimer:
WK8 Ultra Smart Watch Price is updated on regular basis from the authentic sources of local shops and official dealers. However, we do not guarantee the price of the Product mentioned here due to differences in USD conversion frequently as well as market price fluctuation.