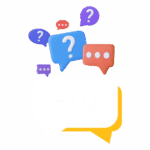 Frequently Asked Questions.
Welcome to our Basic FAQs page! Here, we've gathered some of the most common questions our customers ask. We hope you find the answers you're looking for to make your shopping experience with us even more convenient and enjoyable. If you can't find what you're looking for, don't hesitate to reach out to our dedicated customer support team for further assistance. Happy shopping!
Is it reliable to Buy Used Mobile Phones from DMarket.Pk?
Our top priorities revolve around delivering the highest quality phones to our customers. Before a used smartphone is listed for sale on DMarket.Pk, it undergoes a rigorous evaluation of 70 quality checkpoints. We aim to offer buyers the utmost peace of mind when making a purchase from us.
Do you offer Cash on Delivery (COD) as a payment option?
Yes, Cash on Delivery (COD) is available. However, as per our SOPs, for orders below Rs: 4,999/-, you will need to pay only the delivery charges in advance. The COD option is applicable to more expensive products, and the charges are detailed in the chart below.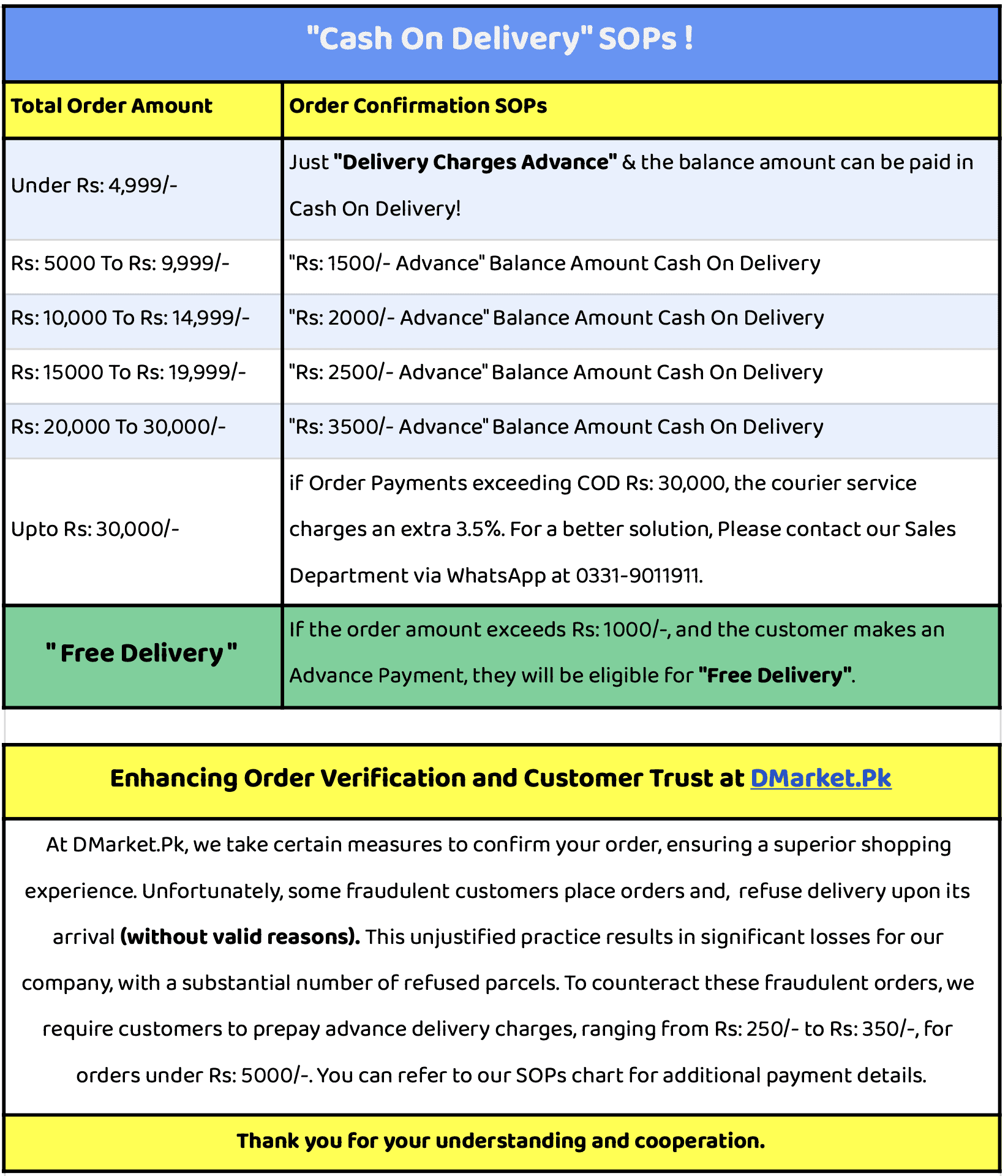 What should I do after paying the advance charges for order confirmation?
Thank you for trusting DMarket.pk. After making your payment, please take a screenshot of the payment transaction ID and your order number. Send this screenshot to our sales department via WhatsApp at 0331-9011911. Our sales team will verify your payment and confirm your order.
Please remember that if you don't have a screenshot of the payment transaction ID, it's essential to provide the account name of the sender and exact payment details day, time or something more detail to facilitate our payment verification process and ensure a prompt order confirmation.
To contact the Sales Department via WhatsApp, Click Here.
Is it safe to make payments on DMarket.Pk?
Yes, our website is SSL Secured, and our company is registered with the FBR (Federal Board of Revenue) and the Chamber of Commerce. You can easily verify our registration on the FBR website, ensuring a safe and secure payment process.
What is your refund and replacement policy?
At DMarket.Pk, we have a comprehensive Replacement Policy outlined in great detail on our website. Refunds on our website are issued when a product is either out of stock or when an accepted claim product is also out of stock. In such cases, a refund is processed for the customer.
For complete  information, you can read it on this page by Here & Here !
How do your promotions and discounts work?
At DMarket.Pk, our top products are featured in our weekly sale section, which is displayed at the bottom of our website with a timer. In addition to this, we offer additional discounts on multiple product purchases, and these discounts are quantity-based. The more quantity you buy, the higher the discount you'll receive.
You can view the additional discount details in the screenshot provided.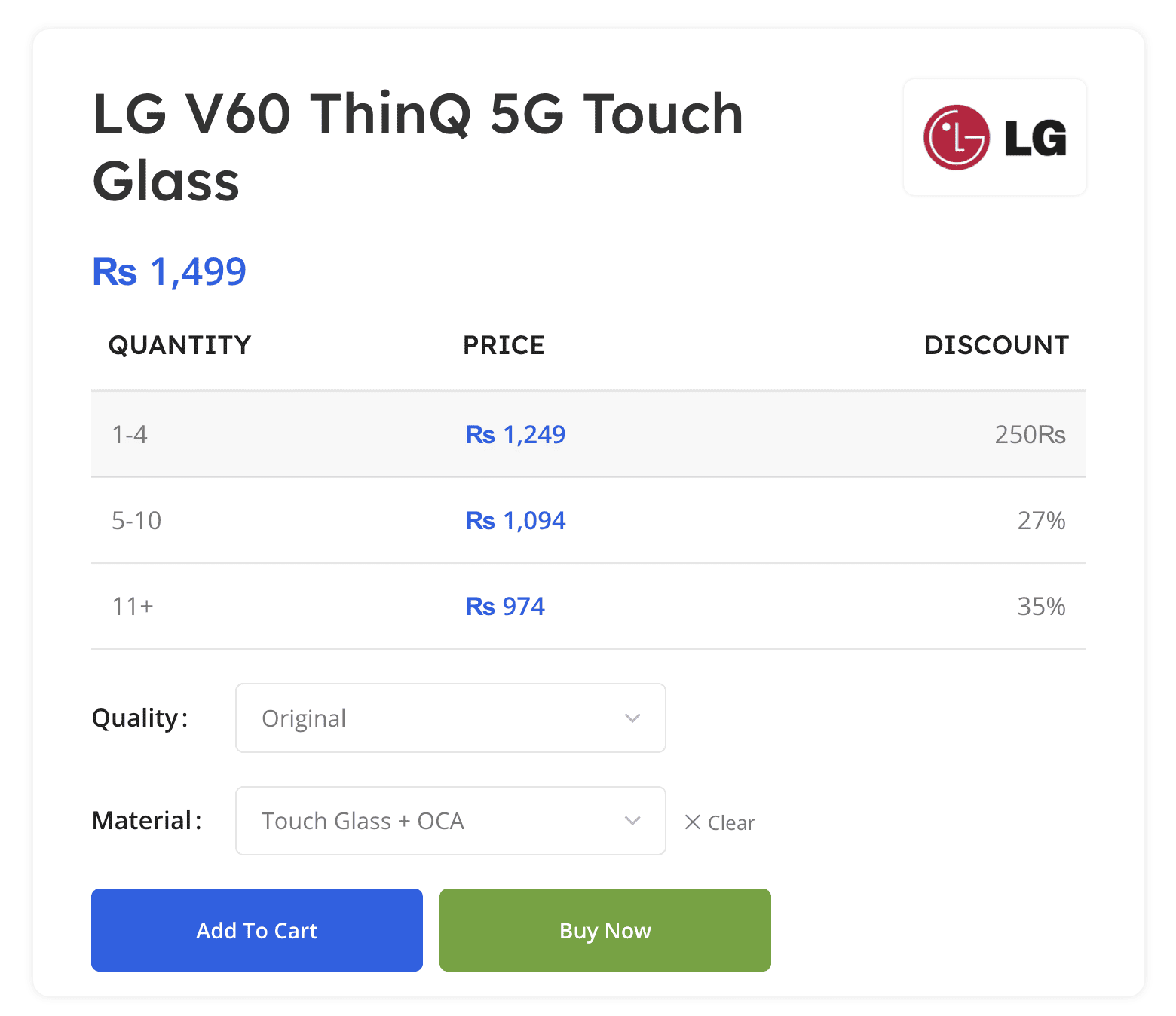 How do I place an order on DMarket.Pk?
Ordering on DMarket.Pk is incredibly easy. Here's a step-by-step guide:
Use the search bar to find the product you want to buy.
Click on the product, and you'll see two buttons: 'Buy Now' and 'Add to Cart.'
If you want to buy only that one product, simply click 'Buy Now,' fill out the form, and click 'Order Now.'
If you want to buy multiple products, click 'Add to Cart' for each item you want to purchase.
When you're ready to complete your purchase, go to your cart and click 'Checkout.' Fill out the required information and click 'Order Now.'"
How are Delivery time and charges calculated?
At DMarket.Pk, we utilize the services of Leopard Courier for our deliveries, specifically their Overnight Package, renowned for its premium service.
Here's a breakdown:
Within Sindh: Estimated delivery time is 1 to 3 days.
Outside Sindh: Estimated delivery time is 2 to 5 working days.
As for delivery charges, they typically range from Rs: 249 to Rs: 349. These charges depend on factors such as the product's amount, weight, size, and our premium packaging material included on this charges, ensuring that your product reaches you in a safe and secure manner.
What is the warranty coverage for your products?
DMarket.Pk's warranty policy has been meticulously crafted by gathering data from worldwide e-commerce stores. Our aim is to provide customers with the best shopping experience and hassle-free returns.
You can read the complete warranty information on this page by "Clicking Here"
For our full terms and conditions, please visit this page by "Clicking Here"
Can I modify or cancel my order after it's been placed?
After placing an order on DMarket.pk, it remains in the default 'ON-HOLD' status. You can modify or cancel the order as long as the order confirmation SOPs (Standard Operating Procedures) have not been completed. However, once the order has been processed or shipped, it is not possible to modify or cancel the order.
What payment methods do you accept?
Our company accepts all major payment methods in Pakistan, including:
Online Banking
SadaPay
NayaPay
JazzCash
EasyPaisa
For complete payment details, you can check on this page by "Clicking Here"
What should I do if I encounter issues while placing an order?
If you are facing any difficulties while placing an order, you can contact us through our contact form, or you can also call us directly at 0345-3106009. Our customer care team is here to assist you in every possible way.