Repair Services Available All Over In Pakistan
Your Device Repair
Our Concern!
Our repair services are available throughout Pakistan, providing efficient and reliable solutions for mobile phone, tablet, and Apple Watch repair. With extensive experience in the industry, we are dedicated to restoring your device to its optimal performance. Trust us to take care of your device repair needs, and get back to your daily routine in no time.
Repair Services Available All Over In Pakistan
Professional Repairing Service
Through Courier Service!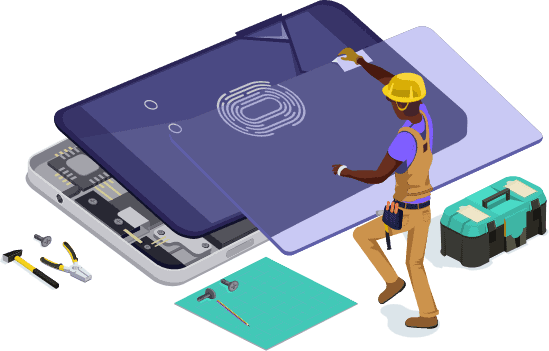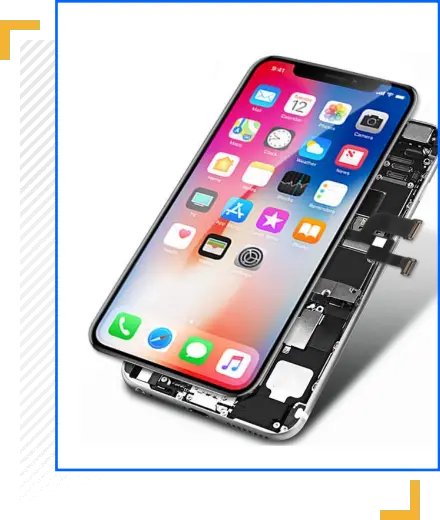 At DMarket.Pk, we serve all our customers across Pakistan with best in the repairing sector at most affordable prices. We provide quality repairs with 100% customer satisfaction.. Our experience in repairing services is more than 10 years.
Screen Display Replacement

Touch Glass Replacement

Charging Port Replacement
Battery Replacement

Back Glass Replacement

Camera Lens Replacement.
Frequently Asked Questions
We are the number one spare parts company in Pakistan, registered with FBR under Marhaba Traders. Additionally, we have offline stores, and you can verify our excellent rating on Google DMarket.Pk.
It's important to verify the credibility of the lab by checking their online reviews and ratings, as well as their certifications and accreditations. Additionally, you may want to ask for references from past customers to gauge their experience with the lab and the quality of their services.
Ultimately, trust is built through transparency, credibility, and reliability. By doing your research and selecting a reputable and trustworthy service provider, you can be confident that your mobile device is in good hands.
We understand the importance of data privacy and take special care to protect it. When repairing hardware, we take every precaution to ensure that your data is neither touched nor viewed. This policy is strictly enforced within our organization, and we take serious action against any violation of it.
In the rare event that private data is compromised, we promptly inform the customer and launch a thorough investigation to identify the culprit. We are committed to maintaining the highest standards of data privacy and security, and we will take all necessary legal actions to protect our customers' confidential information.
What are the steps to book a device repair and what is the payment process at DMarket.Pk?
At DMarket.Pk, getting your device repaired has never been easier:
Book your repair by submitting the "Fix My Phone" form.
Our agent will contact you on WhatsApp and provide a price quotation for the repair.
Courier your device to our lab for repair.
We will fix your device and deliver it to your location.
Pay the entire amount in cash on delivery after your device has been repaired.
Trust us to provide reliable and high-quality repair services that will get your device back to optimal performance. Book your repair today and experience our hassle-free and convenient repair process.
How can the repairs be cheaper with OEM Spares ? What's the catch ?
At our repair center, we use OEM spare parts to keep our prices affordable without compromising quality. We source these genuine devices in bulk from some of the world's largest companies at highly workable prices, allowing us to offer competitive prices to our customers. So, rest assured that you will receive the best quality repair services without breaking the bank.
Will there be Any Hidden Costs?
No, the quote you get from our customer service executive is the final. There are no additional or hidden costs.
So how does this company actually make money ?
Our business model is centered around an OEM parts strategy, which enables us to maintain competitive pricing while keeping our overheads modest. As a result, we may take a bit longer to reach our break-even point, but we are committed to being a long-term player in the industry and driving positive change.
Our fair margins on transactions are another key factor in our profitability. However, our primary focus is on providing exceptional service that inspires customer loyalty and repeat transactions. We believe that our customers are the lifeblood of our business, and we strive to provide service excellence at every opportunity.
We are passionate about creating long-lasting relationships with our customers and exceeding their expectations. Our success is not just measured in terms of profitability, but in the satisfaction and loyalty of our customers. We are committed to being a leading force in the industry and setting new standards for service quality and customer satisfaction.
DMarket.Pk: Pakistan's #1 Online Mobile, Tablet & Apple Watch Repairing Lab.
DMarket.Pk is Pakistan's #1 online Mobile, Tablet & Apple Watch repairing lab and the largest chain of its kind in the country. As the biggest electronic service provider, we offer a comprehensive one-stop solution for all needs related to the repair of Android & iOS smartphones. Our aim is to solve problems in the repairing industry by providing high-quality repairs and services for smartphones, tablets, and Apple watches of all major brands including Apple, iPhone, OnePlus, Redmi, Mi, Oppo, Vivo, Xiaomi, Google Pixel, Samsung, and Realme.
We provide our customers with the best mobile, tablet, and Apple watch repairing services in Pakistan, all at affordable prices. With certified service partners for major branded phones and a focus on quality repairs, we ensure 100% customer satisfaction. Our online mobile, tablet, and Apple watch repair services are available all over Pakistan, including major cities like Karachi, Lahore, Islamabad, KPK, Rawalpindi, Peshawar, and more.
At DMarket.Pk, we redefine the word "fixing" by making it easy, effective, efficient, and within reach of everyone. So if you're facing any issues with your Mobile, Tablet & Apple Watch, don't hesitate to reach out to us. We're here to make your repair experience as stress-free and convenient as possible.