TWS 201 Wireless EarBuds Price In Pakistan
Looking for Imported and Branded Top-Notch Quality Earbuds In Pakistan? We'll Deliver the Best Quality With Lowest Price Earbuds. DMarket.Pk will Never Be Beaten on Choice, Quality. There is a Bunch of Reasons why our Customers Keep Coming Back!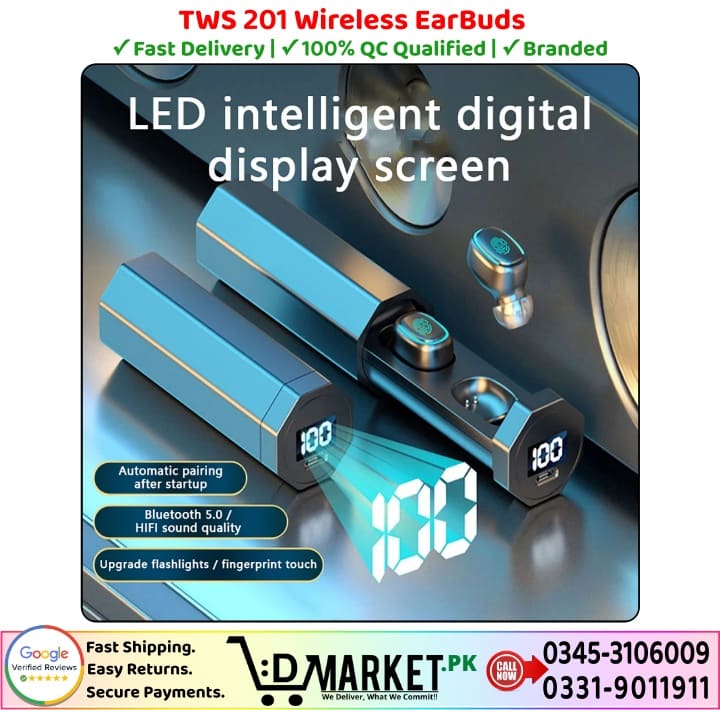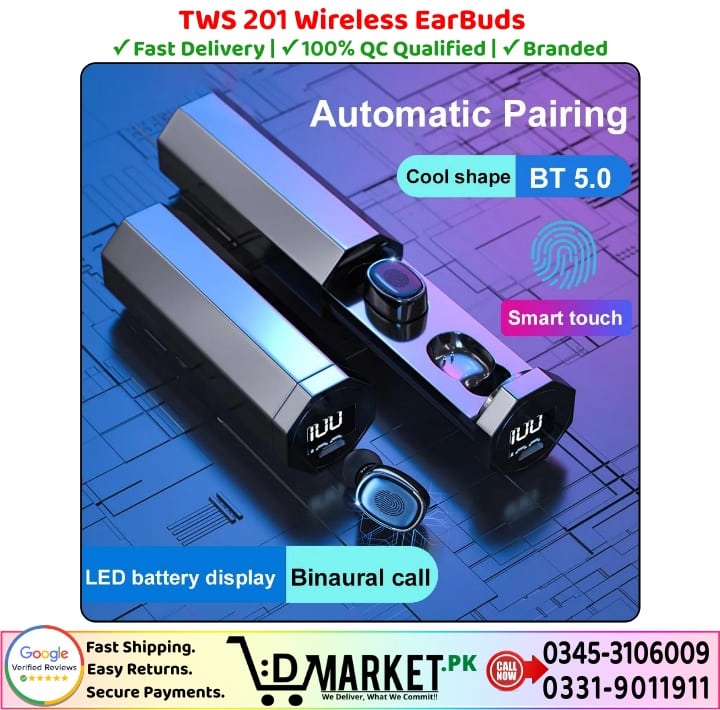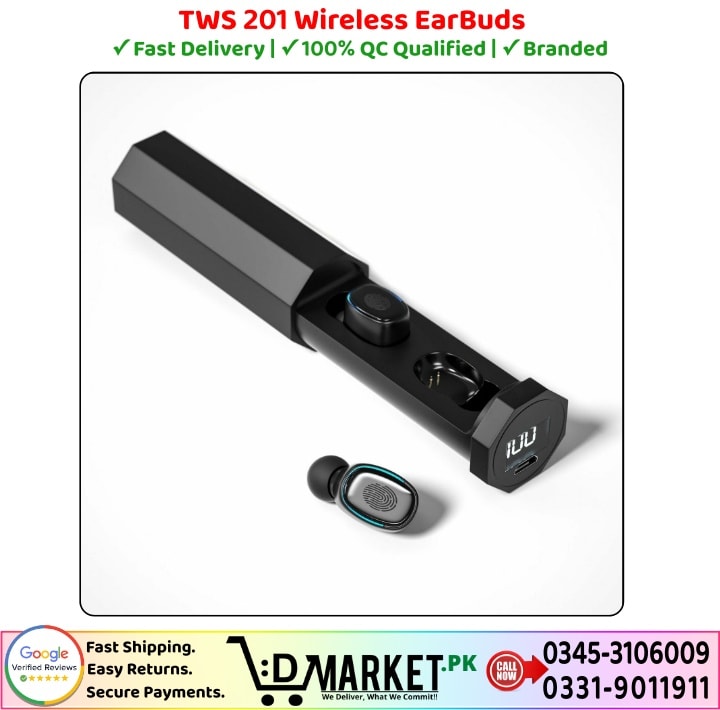 ---
TWS 201 Wireless EarBuds Specs
The TWS 201 Earbuds are a great option for those who want wireless earbuds with advanced features at an affordable price. Here are the key specs of the TWS 201 Earbuds:
Bluetooth Version: 5.0

Wireless Range: up to 33 feet (10 meters)

Earbud Battery Capacity: 50mAh

Charging Case Battery Capacity: 400mAh

Earbud Charging Time: about 1-2 hours

Charging Case Charging Time: about 2 hours

Earbud Playback Time: about 4 hours on a single charge; up to 20 hours with the charging case

IPX7 Water-Resistant

Touch Control

Noise Cancelling

Voice Assistant

Auto Pairing

Low Latency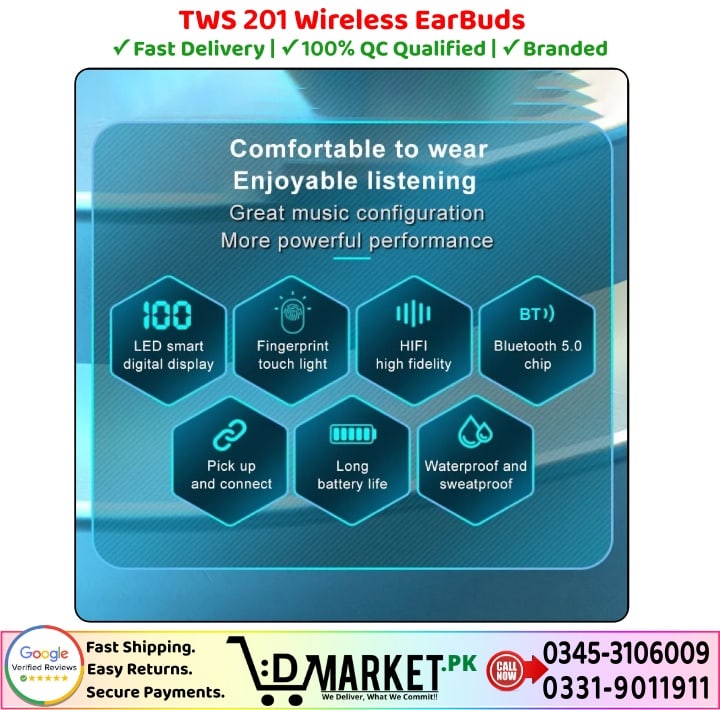 Overall, the TWS 201 Earbuds offer impressive features for the price point, making them a great option for anyone looking for budget-friendly wireless earbuds with advanced features.
---
TWS 201 Wireless EarBuds Battery Life
The battery life of wireless earbuds can vary depending on the specific model and how they are used. Generally, wireless earbuds have a battery life of anywhere from 3 to 10 hours on a single charge.
However, some earbuds come with a charging case that can extend the battery life significantly. For example, some charging cases can provide an additional 20 to 30 hours of playtime on top of the earbuds' own battery life.
It's also important to note that the battery life of wireless earbuds can be affected by factors such as volume level, distance from the connected device, and use of additional features like noise-cancellation or voice-assistant.
When choosing wireless earbuds, it's important to consider your own usage habits and needs in order to find a pair with a battery life that will work for you. Additionally, it's a good idea to look for earbuds that come with a charging case or offer fast charging capabilities to ensure that you can stay connected for longer periods of time without interruption.
---
How To Use TWS 201 Wireless EarBuds
Using TWS 201 Wireless EarBuds is a simple process that involves just a few steps. Here's a quick guide on how to use wireless earbuds:
Charge the earbuds: Before using your wireless earbuds for the first time, make sure they are fully charged by placing them in the charging case. Most wireless earbuds have a battery life indicator that shows how much charge is left.

Pair the earbuds: Turn on your device's Bluetooth and put the earbuds in pairing mode by pressing and holding the power button or a dedicated pairing button on the earbuds. Once the earbuds appear on your device's Bluetooth settings, select them to pair them.

Insert the earbuds: Hold the earbud with the ear tip facing upwards and insert it into your ear canal, twisting slightly until it feels snug and secure. Repeat for the other ear.

Adjust the fit: If the earbuds feel loose or uncomfortable, adjust the fit by gently pulling or pushing the ear tip until you find a comfortable and secure fit.

Play music: Once the earbuds are paired and inserted, play music or other audio content on your device. The sound should play through the earbuds automatically.

Use the controls: Most wireless earbuds have controls for adjusting the volume, skipping tracks, or answering calls. Familiarize yourself with the controls and use them as needed.

Turn off the earbuds: To turn off your wireless earbuds, place them back in the charging case or press and hold the power button until they turn off.
By following these simple steps, you can use your wireless earbuds to enjoy your favorite music, podcasts, or videos with ease and convenience.
---
Gaming Earbuds and Headphone In Pakistan Buying Guide
When it comes to buying gaming earbuds or headphones, there are several key factors to consider to ensure that you get the best product for your needs. Here are some tips to help you make an informed purchasing decision:
Comfort: Look for gaming earbuds or headphones that are comfortable to wear for long periods of time. Look for earbuds or headphones that have cushioned earpads, adjustable headbands, and lightweight designs.

Sound Quality: The quality of the sound is crucial for an immersive gaming experience. Look for earbuds or headphones that deliver clear and detailed sound, with good bass response, and an excellent soundstage.

Microphone Quality: A good microphone is essential for clear communication during online gaming. Look for earbuds or headphones that come with a high-quality, noise-canceling microphone that can pick up your voice clearly without any background noise.

Compatibility: Make sure the gaming earbuds or headphones you choose are compatible with your gaming system, whether it's a PC, console, or mobile device.

Durability: Gaming earbuds or headphones should be built to last. Look for models that are made with high-quality materials and have strong, durable construction that can withstand wear and tear.

Wired vs Wireless: Decide if you prefer wired or wireless earbuds or headphones. Wired earbuds or headphones generally offer better sound quality, while wireless models provide more freedom of movement.

Price: Gaming earbuds or headphones can range from budget-friendly options to high-end models. Set a budget and look for models that offer the features you need within your price range.
By considering these factors when buying gaming earbuds or headphones, you can find a product that will provide an immersive gaming experience with clear sound, comfortable wear, and durable construction.
---
Why DMarket.Pk No-1 Gadget Selling Online Store In Pakistan?
DMarket.Pk has earned its reputation as the No-1 Gadget selling platform in Pakistan for a multitude of reasons. From the quality of our products to the exceptional customer service we provide, we continuously strive to exceed the expectations of our customers.
We understand that buying gadgets can be a daunting experience, which is why we prioritize transparency and honesty in all of our dealings. We offer a wide range of the latest gadgets from leading brands, ensuring that our customers have access to the latest technology in the market.
At DMarket.Pk, we are dedicated to providing our customers with a seamless shopping experience. We offer convenient payment methods, secure transactions, and fast delivery services across Pakistan. Our knowledgeable and friendly customer service team is always on hand to provide assistance and support to our valued customers.
We take pride in our commitment to quality, which is why we offer only the best products that are thoroughly tested and vetted for their durability and performance. Our products are not only of the highest quality, but also affordable, making it easy for anyone to access the latest gadgets without breaking the bank.
With a focus on customer satisfaction, we continuously improve and innovate to provide our customers with the best possible experience. Our dedication to excellence has earned us the trust and loyalty of our customers, making DMarket.Pk the No-1 gadget selling platform in Pakistan.
---
Disclaimer:
TWS 201 Wireless EarBuds Price is updated on regular basis from the authentic sources of local shops and official dealers. However, we do not guarantee the price of the Product mentioned here due to differences in USD conversion frequently as well as market price fluctuation.