Sharp Aquos R2 Price In Pakistan
Looking for Second Hand Used Mobile Phones In Pakistan? We'll Deliver the Best Quality With Lowest Price Mobile Phones & Used Tablet. DMarket.Pk will Never Be Beaten on Choice, Quality. Our team of experts is dedicated to providing exceptional customer service, and we are committed to your satisfaction. There is a Bunch of Reasons why our Customers Keep Coming Back!
---
Sharp Aquos R2 Now Available In Pakistan
If you're searching for a used Sharp Aquos R2 in Pakistan, PTA-Approved model is available at an unbeatable price of only ₨ 22,999/-, and the Non-PTA model is priced at Rs: 16,499/-. Featuring powerful performance and impressive features., This smartphone is a must-have for gamers and tech enthusiasts.. Don't miss out on this incredible deal.
---
Sharp Aquos R2 Specifications and Features
| Specifications | Details |
| --- | --- |
| Dimensions | 153 x 74 x 9 mm |
| Weight | 181 g |
| Build | Front/back glass, aluminum frame |
| SIM | Dual SIM (Nano-SIM, dual stand-by) |
| Display | 6.0 inches, 1440 x 3040 pixels, IGZO IPS LCD, 120Hz refresh rate |
| OS | Android 9.0 (Pie) |
| Chipset | Qualcomm SDM845 Snapdragon 845 |
| CPU | Octa-core (4×2.6 GHz Kryo 385 Gold & 4×1.7 GHz Kryo 385 Silver) |
| GPU | Adreno 630 |
| RAM | 4GB |
| Internal storage | 64GB |
| External storage | microSD, up to 512GB |
| Main camera | Dual: 22.6 MP, f/1.8, 23mm (wide), 1/2.6″, 1.0µm, PDAF + 16.3 MP, f/2.4, 56mm (telephoto), 1/3.4″, 1.0µm, PDAF, 2x optical zoom |
| Selfie camera | 8 MP, f/2.0, 1/4″, 1.12µm |
| Battery | Non-removable Li-Ion 3130 mAh battery |
| Colors | White, Black, Red, Blue |

Top Features of Sharp Aquos R2
The Sharp Aquos R2 boasts a sleek and stylish design with a 6.0-inch IGZO IPS LCD display with a high refresh rate of 120Hz. It runs on an Android 9.0 (Pie) operating system and is powered by a Qualcomm SDM845 Snapdragon 845 chipset with an octa-core CPU and Adreno 630 GPU. The device comes with 4GB of RAM and 64GB of internal storage that can be expanded up to 512GB via a microSD card.
The Aquos R2 features a dual rear camera setup consisting of a 22.6MP primary camera and a 16.3MP telephoto lens with 2x optical zoom. The front-facing camera is an 8MP shooter. The device is equipped with a non-removable 3130 mAh battery and comes in two colors, white and black. Overall, the Sharp Aquos R2 is a powerful and capable smartphone that offers a premium user experience.
Sharp Aquos R2 Refresh Rate
The Sharp Aquos R2 has a 120Hz refresh rate for its display, making it capable of delivering smoother and more fluid visuals for gaming and other fast-paced activities. The high refresh rate also helps to reduce motion blur, making it easier on the eyes when scrolling or reading text. Overall, the Sharp Aquos R2's 120Hz refresh rate is a notable feature that sets it apart from many other smartphones on the market today.
---
Buying Guide for the Sharp Aquos R2 Used
Our used phones are sourced directly from overseas and have never been used in Pakistan before, giving you the chance to own a unique device.

These pre-owned, second-hand phones are of the highest quality and arrive with us directly from overseas.

All of our used phones are imported without chargers, so we only provide the phones themselves. Some dealers increase the price by adding a charger, but we offer our used phones to customers at a fair price without any additional charges.

We're proud to offer a seven-day warranty on all of our used mobile phones.

This gives you the peace of mind you need when purchasing a pre-owned device, knowing that you can check it over and make sure it meets your expectations.

It's important to us that you get the correct order, so please double-check your model, colors, specs, and variations when placing your order. We can't take responsibility for any incorrect orders, so make sure you get everything just right.
---
Sharp Aquos R2 Dubai USA UAE UK Used Price In Pakistan
Are you tired of paying a hefty price for a new phone? Your go-to source for quality used mobile phones! We specialize in importing the latest models from the UAE, Dubai, USA, UK, and Japan, ensuring that you get your hands on the most cutting-edge technology at a fraction of the cost.
All of our phones are in excellent condition and come with a one week replacement warranty for your peace of mind. We thoroughly test and quality check every phone before it becomes available for purchase, so you can rest assured that you're getting a device that is as good as new.
---
Sharp Aquos R2 Pictures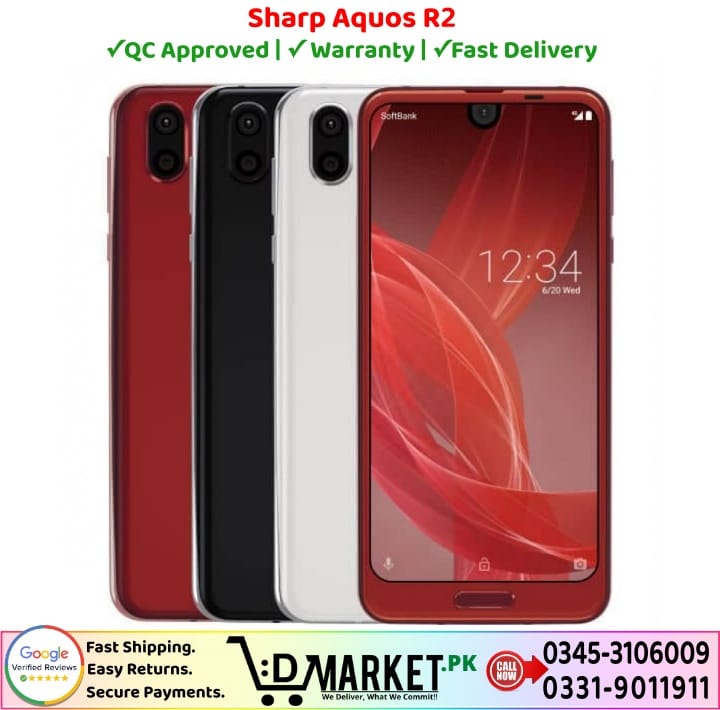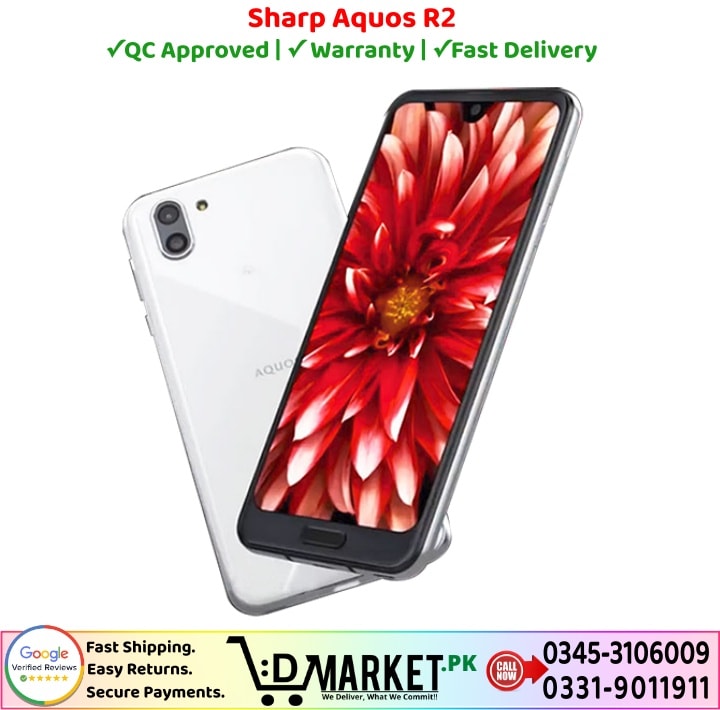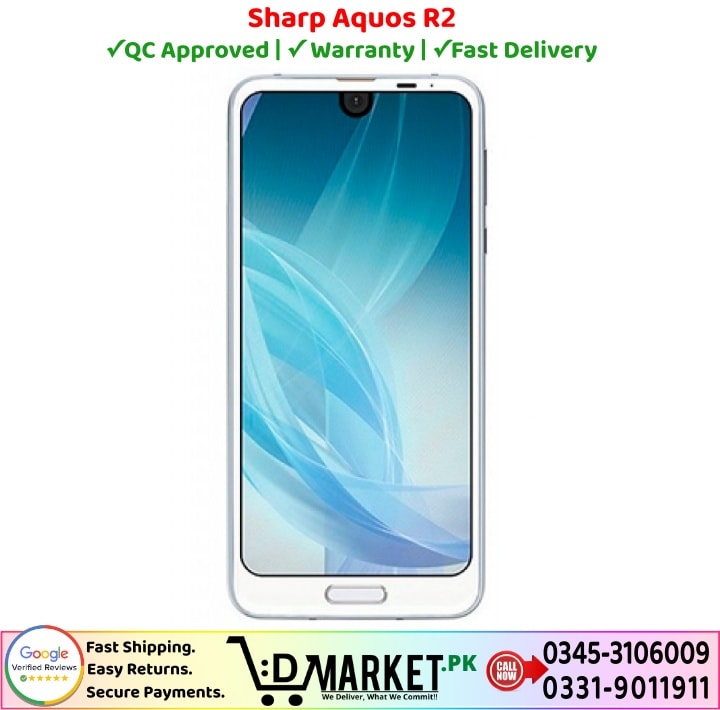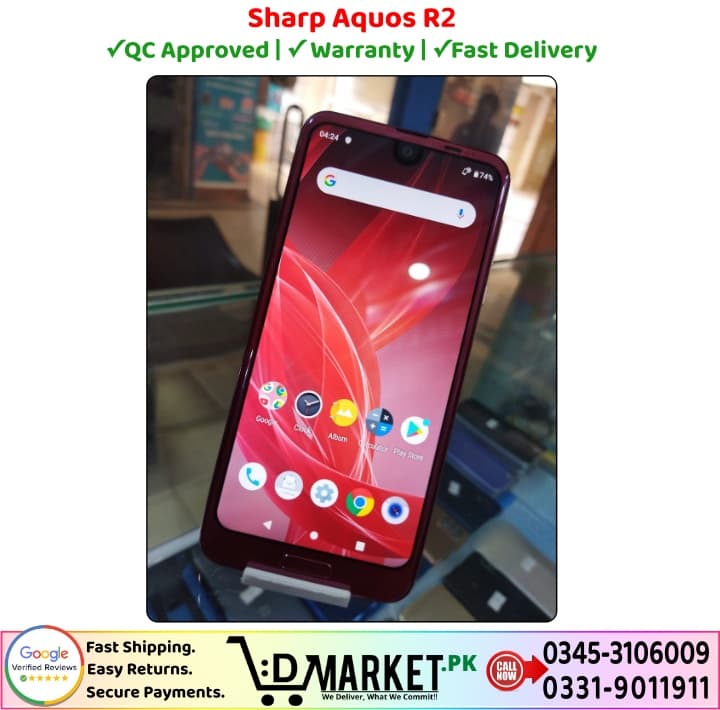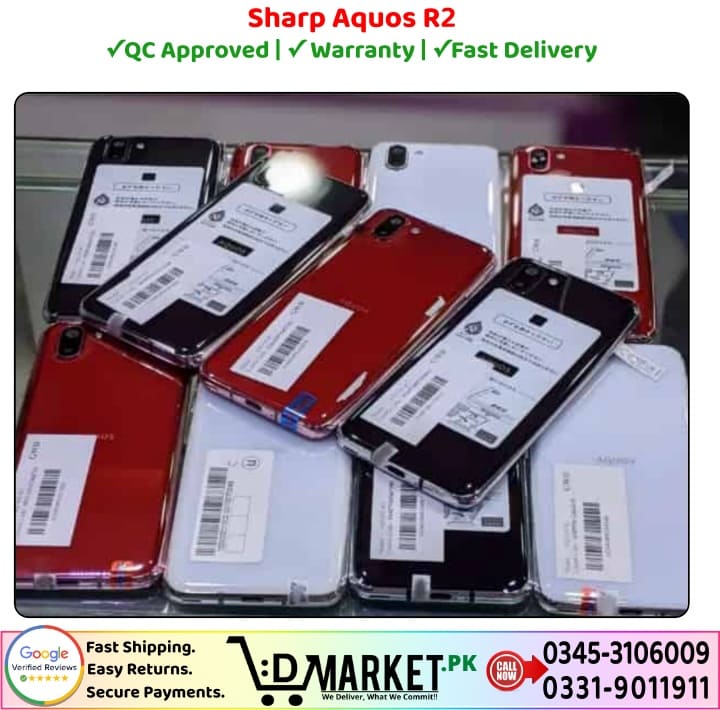 ---
DMarket.Pk brings some of the best gaming phones for gamers in Pakistan. Are you a gamer living in Pakistan looking for the best gaming mobiles?
Gaming on smartphones has been a thing ever since we all first booted up the Nokia 3310 for playing hours of Snake game. The gaming scenario has now been totally upgraded with the introduction of games like COD, PUBG and Free Fire, etc. With an increase of interest in gaming,
Users now demand dedicated gaming smartphones which can provide them with a power-packed gaming experience altogether. If you are a hardcore mobile gamer or want to start playing mobile games, it is essential to consider certain features before purchasing a gaming mobile phone.
Factors to Consider
Before diving into the list of top gaming mobiles, there are some factors you should consider when choosing a gaming mobile.
Processor and RAM: The processor and RAM are the most critical components for a smooth gaming experience. A high-end processor and sufficient RAM will ensure your phone can handle demanding games without lagging.
Display: The display quality is essential for an immersive gaming experience. Look for a phone with a high-resolution screen, good color accuracy, and a high refresh rate.
Battery life: Mobile gaming can quickly drain your phone's battery. Look for a phone with a large battery capacity that can last for extended gaming sessions.
Cooling: Gaming can cause your phone to heat up quickly, leading to performance issues. A phone with a good cooling system, such as a liquid cooling technology, can prevent overheating.
Storage: Games can take up a lot of storage space on your phone. Consider a phone with ample internal storage or the option to expand storage through a microSD card.
Audio: Good audio quality is crucial for an immersive gaming experience. Look for a phone with front-facing speakers or dual speakers for better sound.
Brand reputation: Look for brands with a good reputation for producing high-quality gaming mobiles. Research reviews and customer feedback before making a purchase.
Price: Gaming mobiles can be expensive, but there are options available at different price points. Set a budget and look for phones that offer the best value for money.
Accessories: Consider accessories such as gaming controllers or external cooling fans to enhance your mobile gaming experience.
Durability: Mobile gaming can be intense, so it's important to choose a phone that is durable and can withstand long hours of gaming. Look for phones with durable materials and water-resistant capabilities.
---
Frequently Asked Questions (FAQs) on Gaming Mobile Prices in Pakistan
Q: What is the average price of a gaming mobile phone in Pakistan?
A: The average price of a gaming mobile phone in Pakistan ranges from 30,000 PKR to 100,000 PKR depending on the brand, model, and specifications.
Q: Which are the best gaming mobile phone brands available in Pakistan?
A: Some of the best gaming mobile phone brands available in Pakistan are Google Pixel, Samsung, Huawei, Xiaomi, OnePlus, Oppo, Realme, Sharp Aquos, and Vivo.
Q: Gaming Mobile Under 20000 In pakistan?
A: Yes, there are several gaming mobile phones available in Pakistan under 20,000 PKR. Check out this link for some options: Buy Gaming Mobile Phones Under Rs: 20000/-.
Q: Gaming Mobile Under 30000 In pakistan?
A: While there are some gaming mobile mobile phones available in Pakistan under 30,000 PKR that can handle basic gaming, they may not be suitable for heavy gaming requirements. Check out this link for some options: Buy Gaming Mobile Phones Under Rs: 30000/-
Q: Gaming Mobile Under 50000 In pakistan?
A: Yes, there are several gaming mobile phones available in Pakistan under 50,000 PKR that offer great specifications for a smooth gaming experience. Check out this link for some options: Buy Gaming Mobile Phones Under Rs: 50000/-
---
Sharp Aquos R2 Used Mobile Phones in Pakistan: Pros and Cons
Pros:
High-spec devices can be purchased at a lower price point, allowing for cost-effective gaming and other high-performance tasks.

Due to the increase in the value of the US dollar in Pakistan, the resale value of used mobile phones is often better.

Some used phones are imported in brand new condition, providing a lucky find for buyers.
Cons:
Some used phones may have an IMEI patch that causes network signal issues after a mobile reset.

This is because the patch is removed after the reset, causing the network signal to be lost.

These devices are pre-owned and may have minor faults, despite being QC tested.

The duty on non-PTA phones in Pakistan is high, which can lead to a higher tax than the actual value of the phone.
Conclusion:
If you have a limited budget and are looking for a high-spec phone, Imported used mobile phone is the best option. This allows you to obtain a great gaming experience and the latest hardware at a lower cost. However, it is important to note that if you choose to purchase a Non-PTA phone, you should be aware that the duty on such phones is quite high in Pakistan.