Samsung Galaxy M20 Used Price In Pakistan
Looking for Second Hand Used Mobile Phones In Pakistan? We'll Deliver the Best Quality With Lowest Price Mobile Phones & Used Tablet. DMarket.Pk will Never Be Beaten on Choice, Quality. There is a Bunch of Reasons why our Customers Keep Coming Back!
---
Samsung Galaxy M20 Used Kit Buying Guide
We Import Used Phones From Overseas, It hasn't been used in Pakistan yet..

Samsung Galaxy M20 Used, Second-Hand, Pre-Owned, and Arrive from overseas.

All Used Mobile Phones we sell are eligible for a Seven (7) days checking warranty.

Please Ensure all orders are made correctly including model, colors, specs, and variation.

We Will Not Take Any Responsibility For The Wrong Order.
---
Samsung Galaxy M20 Used Pictures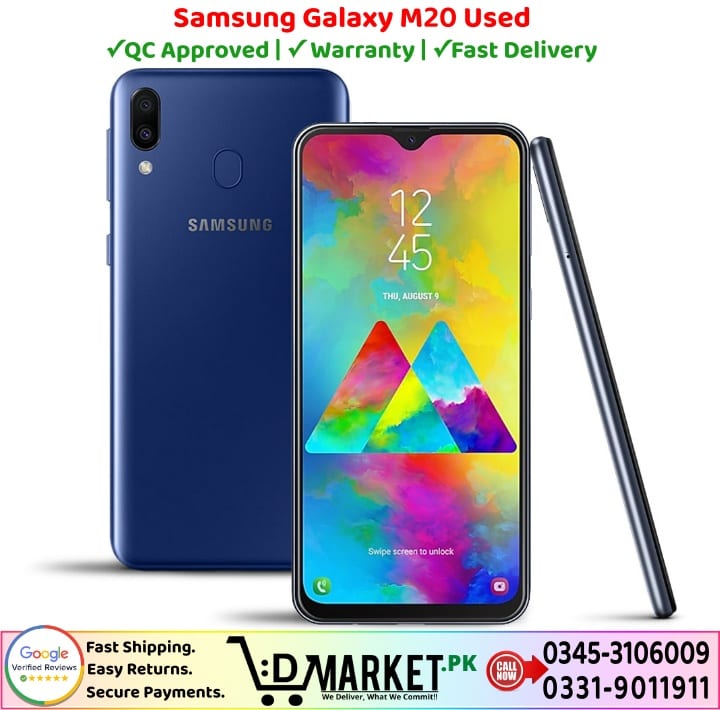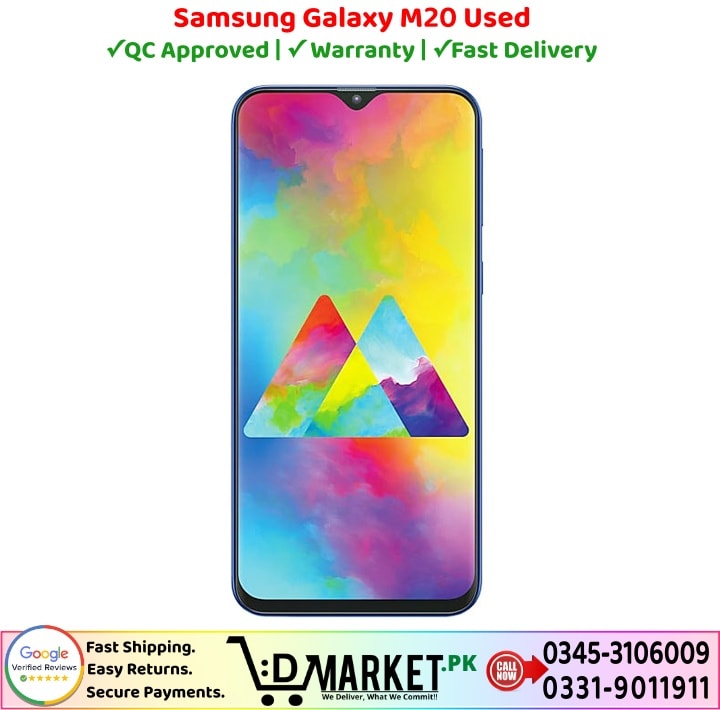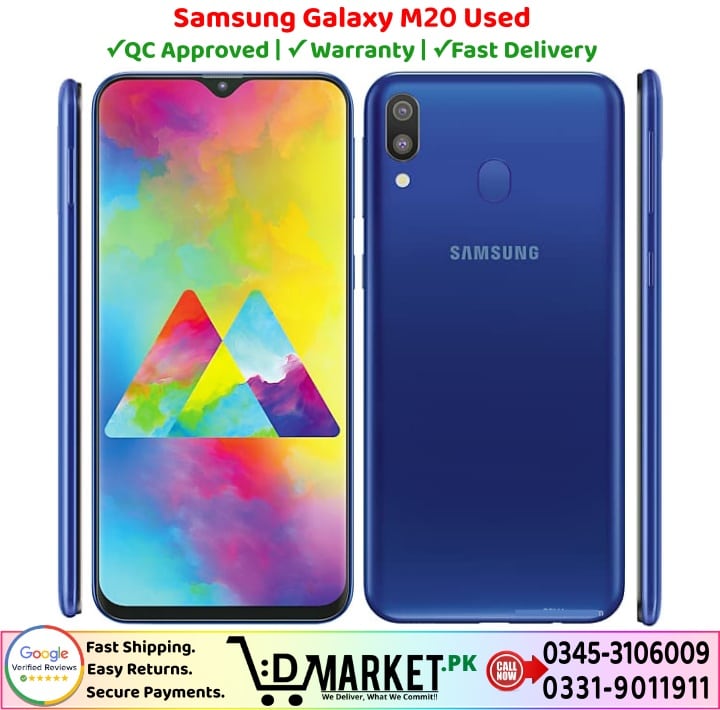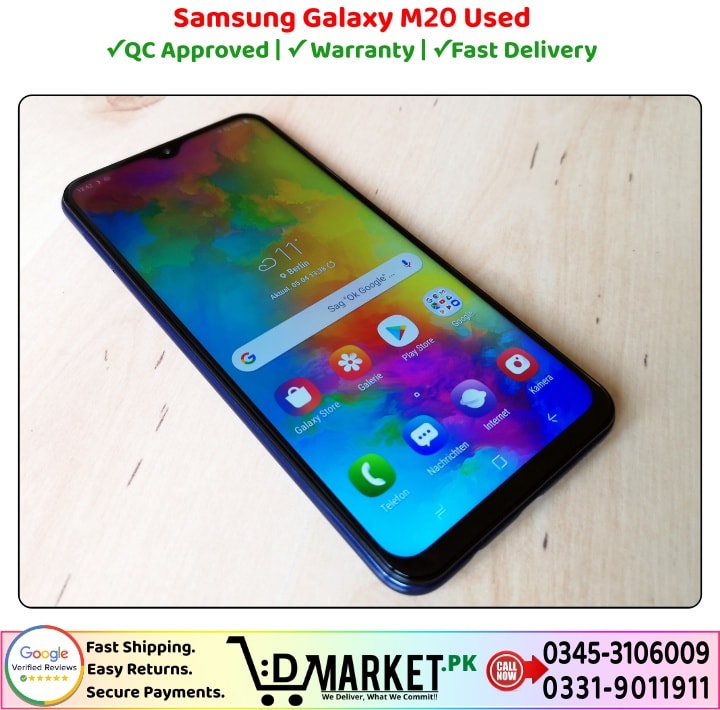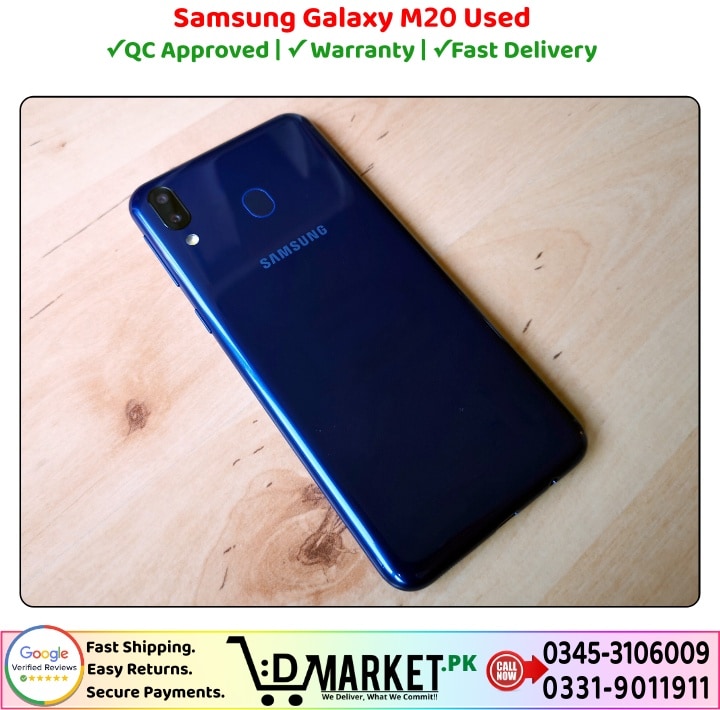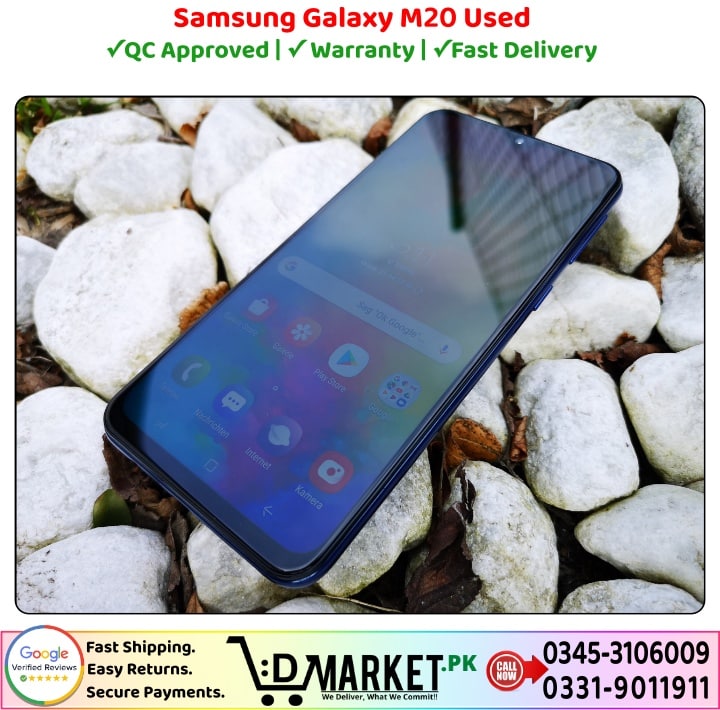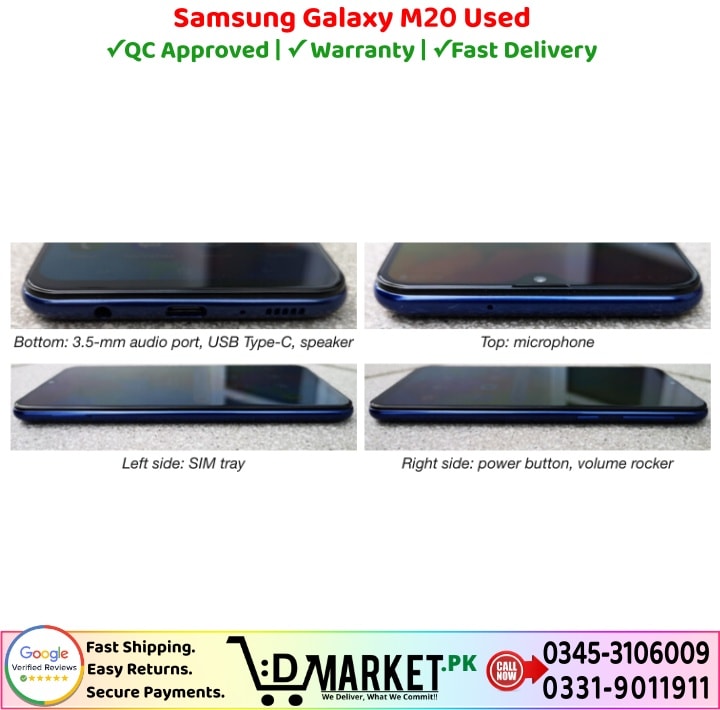 ---
Samsung Galaxy M20 PTA Tax
The estimated PTA tax for the Samsung Galaxy M20 is around PKR Rs: 7,500/- to Rs: 8,500/-. This tax amount may vary based on the phone's model, storage capacity, and other factors.
If you're planning to buy an Samsung Galaxy M20 Used in Pakistan, it's important to be aware of the PTA (Pakistan Telecommunication Authority) tax that applies to imported mobile phones. The PTA tax is a regulatory duty imposed by the government of Pakistan on all imported mobile devices to ensure they are legally imported and are not stolen or counterfeit.
---
Samsung Galaxy M20 Specifications
Display: 6.3-inch Full HD+ (1080 x 2340 pixels) Infinity-V display
Processor: Exynos 7904 octa-core processor
RAM: 4GB RAM
Storage: 64GB internal storage options, expandable up to 512GB via microSD card
Rear Cameras: 13-megapixel (f/1.9) primary camera + 5-megapixel ultra-wide angle (f/2.2) camera
Front Camera: 8-megapixel (f/2.0) camera
Battery: 5,000mAh battery with fast charging support
Operating System: Android 8.1 Oreo with Samsung Experience UI on top
Connectivity: Dual-SIM, 4G VoLTE, Wi-Fi, Bluetooth 5.0, GPS, USB Type-C port, and 3.5mm headphone jack
Sensors: Fingerprint sensor (rear-mounted), accelerometer, gyro sensor, proximity sensor, and compass
Dimensions: 156.4 x 74.5 x 8.8 mm
Weight: 186 g
---
DMarket.Pk brings some of the best gaming phones for gamers in Pakistan. Phones have become very advanced now with the added processing power and high-quality display, gaming on phones was never better than it is today. We offer some of the most affordable gaming mobiles in the market.
Gaming on smartphones has been a thing ever since we all first booted up the Nokia 3310 for playing hours of Snake game. The gaming scenario has now been totally upgraded with the introduction of games like COD, PUBG and Free Fire, etc. With an increase of interest in gaming, users now demand dedicated gaming smartphones which can provide them with a power-packed gaming experience altogether.
Gaming on mobile phones has become a popular pastime for people of all ages. However, not all smartphones are created equal when it comes to gaming. If you are a hardcore mobile gamer or want to start playing mobile games, it is essential to consider certain features before purchasing a gaming mobile phone. Here are some tips to keep in mind when buying a gaming mobile:
Processor and RAM: The processor and RAM are the most critical components for a smooth gaming experience. A high-end processor and sufficient RAM will ensure your phone can handle demanding games without lagging.
Display: The display quality is essential for an immersive gaming experience. Look for a phone with a high-resolution screen, good color accuracy, and a high refresh rate.
Battery life: Mobile gaming can quickly drain your phone's battery. Look for a phone with a large battery capacity that can last for extended gaming sessions.
Cooling: Gaming can cause your phone to heat up quickly, leading to performance issues. A phone with a good cooling system, such as a liquid cooling technology, can prevent overheating.
Storage: Games can take up a lot of storage space on your phone. Consider a phone with ample internal storage or the option to expand storage through a microSD card.
Audio: Good audio quality is crucial for an immersive gaming experience. Look for a phone with front-facing speakers or dual speakers for better sound.
Brand reputation: Look for brands with a good reputation for producing high-quality gaming mobiles. Research reviews and customer feedback before making a purchase.
Price: Gaming mobiles can be expensive, but there are options available at different price points. Set a budget and look for phones that offer the best value for money.
Accessories: Consider accessories such as gaming controllers or external cooling fans to enhance your mobile gaming experience.
Durability: Mobile gaming can be intense, so it's important to choose a phone that is durable and can withstand long hours of gaming. Look for phones with durable materials and water-resistant capabilities.
By considering these features and factors, you can find a gaming mobile that meets your needs and provides an immersive and enjoyable gaming experience.
---
Samsung Galaxy M20 UK UAE Used Price In Pakistan
We Import used mobile phones from the UK or UAE which have been used very little. All our smartphones are imported as we don't use any used phones in Pakistan. We make sure that all our imported phones go through a thorough quality testing process to ensure that they are of top-notch quality.
---
Why DMarket.Pk is the No-1 Used Mobile Online Store in Pakistan?
DMarket.Pk is the No.1 used mobile online store in Pakistan for a variety of reasons. Firstly, we have a wide range of used mobile phones available for sale, catering to different brands, models, and budgets. DMarket.Pk is easy to navigate, making it simple for customers to find the specific phone they need.
Secondly, all our used mobile phones undergo a strict quality control process to ensure they meet our high standards. We want our customers to have complete peace of mind when purchasing from us, so we only offer phones that have been thoroughly tested and verified as fully functional.
Thirdly, we offer competitive prices and unbeatable deals on our used mobile phones, making us an affordable choice for anyone looking to purchase a phone without breaking the bank.
Lastly, we offer a hassle-free shopping experience with easy payment options and a reliable delivery service. We value our customers and strive to ensure their satisfaction, which is why we offer a 7-day replacement policy.
In conclusion, DMarket.Pk has earned its position as the No.1 used mobile online store in Pakistan by providing a wide range of quality-tested used mobile phones at unbeatable prices, while ensuring a hassle-free shopping experience for our customers. 
---
Samsung Galaxy M20 Used Second Hand Smartphones Pros & Cons:
Used imported mobile phones are becoming increasingly popular in many parts of the world, including Pakistan. While these devices offer some benefits, they also come with some drawbacks. Here are some of the pros and cons of buying used imported mobile phones:
Pros:
Lower cost: Used imported mobile phones are typically less expensive than brand new devices. This can make them a good option for those who want a high-quality phone but are on a tight budget.

Greater variety: Since these phones are imported from other countries, buyers have access to a greater variety of devices that may not be available in the local market.

Latest features: Many imported phones are relatively new models that come with the latest features and technology.
Cons:
Lack of warranty: Most used imported mobile phones do not come with a warranty, which can be risky for buyers if the device malfunctions or breaks.

Compatibility issues: Some imported phones may not be compatible with local networks or may have language settings that cannot be changed, making them difficult to use.

Potential for fraud: There is always a risk of fraud when buying used goods, and imported mobile phones are no exception. Some sellers may misrepresent the condition or specifications of the phone.
Conclusion: Overall, buying used imported mobile phones can be a good option for those who are willing to take some risks and do their research. However, buyers should be cautious and only purchase from reputable sellers to avoid any potential problems.
---
Disclaimer:
Samsung Galaxy M20 Used Second Hand Price is updated on regular basis from the authentic sources of local shops and official dealers. However, we do not guarantee the price of the Product mentioned here due to differences in USD conversion frequently as well as market price fluctuation.