Fujitsu Arrows F-51A Used Mobile Price In Pakistan
Are you looking to buy second hand used mobile phones? You've come to the right place! We offer completely QC-tested used mobile phones without any issues. Our dedicated team of experts is committed to providing exceptional customer service, ensuring your satisfaction.
There is a Bunch of Reasons Why Our Customers Keep Coming Back! We provide quick delivery services in Karachi, Lahore, Islamabad, Multan, Rawalpindi, and throughout Pakistan, all with a risk-free payment solution. Shop With Confidence At DMarket.Pk
---
Fujitsu Arrows F-51A Mobile is Now Available Online in Pakistan
The Fujitsu Arrows F-51A Is Now Available For Just PKR 47,999/- for the 8GB/128GB Official PTA-Approved variant. These are branded mobile phones imported from the USA and UAE. The phones in the branded phones category are known for their excellent quality and are slightly used.
These phones offer outstanding gaming and high-performance capabilities and are available at a reasonable price. This allows you to enjoy phones with great specs even on a tight budget. We have these phones in stock, and they are guaranteed to be sealed phones with no repairs or refurbishments. Everything, from front to back, consists of genuine parts and is in good condition.
---
Why Choose the Fujitsu Arrows F-51A Used Mobile?
The main reason to buy the Fujitsu Arrows F-51A Used Mobile is that it offers excellent specs at a low price. It is a gaming mobile and high-performance device. Another reason to consider buying the Fujitsu Arrows F-51A is that its parts are readily available in the local market and on our website, ensuring genuine components.
Furthermore, these phones have excellent resale value. So, if you're looking to get great specs at a lower price, the Fujitsu Arrows F-51A Used Mobile is an outstanding choice.
---
Fujitsu Arrows F-51A Mobile Price in Pakistan and Specifications

Chipset

Snapdragon 865

CPU

Up to 2.84 GHz single-core Kryo 585, 2.42 GHz tri-core Kryo 585
& 1.8 GHz quad-core Kryo 585

GPU

Adreno 650

Memory

8 GB

OS

Android 10

Internal storage

128 GB

External storage

microSD / microSDHC / microSDXC

Primary camera

Yes, 48 MP

Secondary camera

Yes, 32 MP

GPS

Yes

Assisted GPS

Yes

2G network

GSM 850 / 900 / 1800 / 1900

3G network

HSDPA 800 / 850 / 2100

4G network

LTE 700 / 800 / 850 / 1800 / 2100

Connectivity

Bluetooth WLAN

Status

Available At DMarket.Pk

USB

Yes, Type-C

Dimensions

76 / 164 / 7.7 mm

Weight

171 g

Display type

OLED

Display size

6.7″

Display resolution

3120 × 1440 px

Display protection

Multitouch

Battery

4070 mAh

Price In PKR

Rs: 47,999/- Official PTA-Approved
---
Buying Guide for the Fujitsu Arrows F-51A Used Mobile
Our Used Smartphones are sourced directly from overseas and have never been used in Pakistan before, giving you the chance to own a unique device.

These pre-owned, second-hand phones are of the highest quality and arrive with us directly from overseas.

All of our used phones are imported without chargers, so we only provide the phones themselves. Some dealers increase the price by adding a charger, but We offer our used phones to customers at a fair price without any additional charges.

We're proud to offer a 7 days replacement warranty on all of our used mobile phones.

This gives you the peace of mind you need when purchasing a pre-owned device, knowing that you can check it over and make sure it meets your expectations.

It's important to us that you get the correct order, so please double-check your model, colors, specs, and variations when placing your order. We can't take responsibility for any incorrect orders, so make sure you get everything just right.
---
Used Mobile Phone Delivery: Secure and Meticulous Packing Method
Safely delivering mobile phones and fragile products is a risky task because many courier services don't strictly adhere to safety protocols. However, you don't need to worry because we have over 5 years of experience in this field.
Our service operates successfully in Karachi, Lahore, Islamabad, Rawalpindi, village areas, and throughout Pakistan. That's why we use innovative packing methods to ensure your product's safe delivery.
Step 1: First, we thoroughly wrap the product with bubble wrap and securely tape it to keep the bubbles in place.
Step 2: Then, we place the product in a custom-made hard plastic box that can securely hold up to 100KG, ensuring that your product remains safe and protected.
Step 3: We pack the product in an envelope, seal it, and affix a stamp to ensure that the product is not tampered with or subjected to any scams or fraud. This way, we guarantee that the customer receives the product they ordered.
This comprehensive packing process is designed to safeguard your product during the delivery process.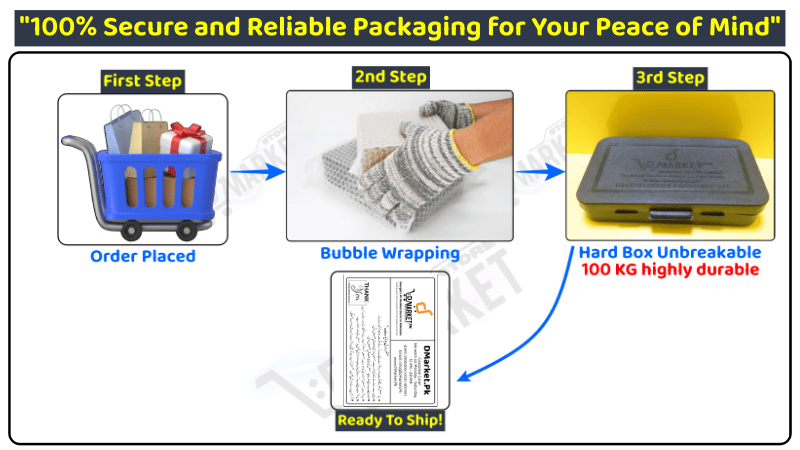 ---
Fujitsu Arrows F-51A Used Mobile Phone Pros and Cons
Pros:
Cost-effective gaming and high-performance tasks due to lower prices on high-spec devices.

Better resale value due to the increase in the US dollar's value in Pakistan.

Lucky finds for buyers: Some used phones are imported in brand new condition.
Cons:
IMEI patch issues may cause network signal problems after a mobile reset.

Network signal loss occurs when the patch is removed post-reset.

Despite QC testing, pre-owned devices may have minor faults.

High duties on non-PTA phones in Pakistan lead to higher taxes compared to the phone's actual value.
---
Conclusion: You can purchase all kinds of smartphones from us. If a particular smartphone isn't available on our website, We can also import it for you. Whether you are from any part of Pakistan, we will provide you with the product safely and securely.