Motorola Moto G Power 2022 LCD Panel Unit Price In Pakistan
Want To Buy Mobile Phones LCD Panel Unit Touch Screen In Pakistan? We'll Deliver You the Lowest Price & Supreme Quality Mobile, Tablet, Laptop & Smart Watch Spare Parts All Over In Pakistan. DMarket.Pk will Never Be Beaten on Choice, Quality. There is a Bunch of Reasons why our Customers Keep Coming Back!
---
Motorola Moto G Power 2022 Replacement LCD Panel Unit Buying Instructions
Motorola Moto G Power 2022 LCD Panel Unit XT2165-5 Display Screen Replacement Required Special skills and techniques required for proper installation.

Please Double-check your orders to ensure the correct model, color, specs, and variations.

We Will Not Take Any Responsibility For The Wrong Order.

We Will Not Responsible For Any Loss That Occurred To Your Device As a Result of Poor Or Improper Installation of Replacement Parts.
---
Certificate of Authorization Exclusive to DMarket.Pk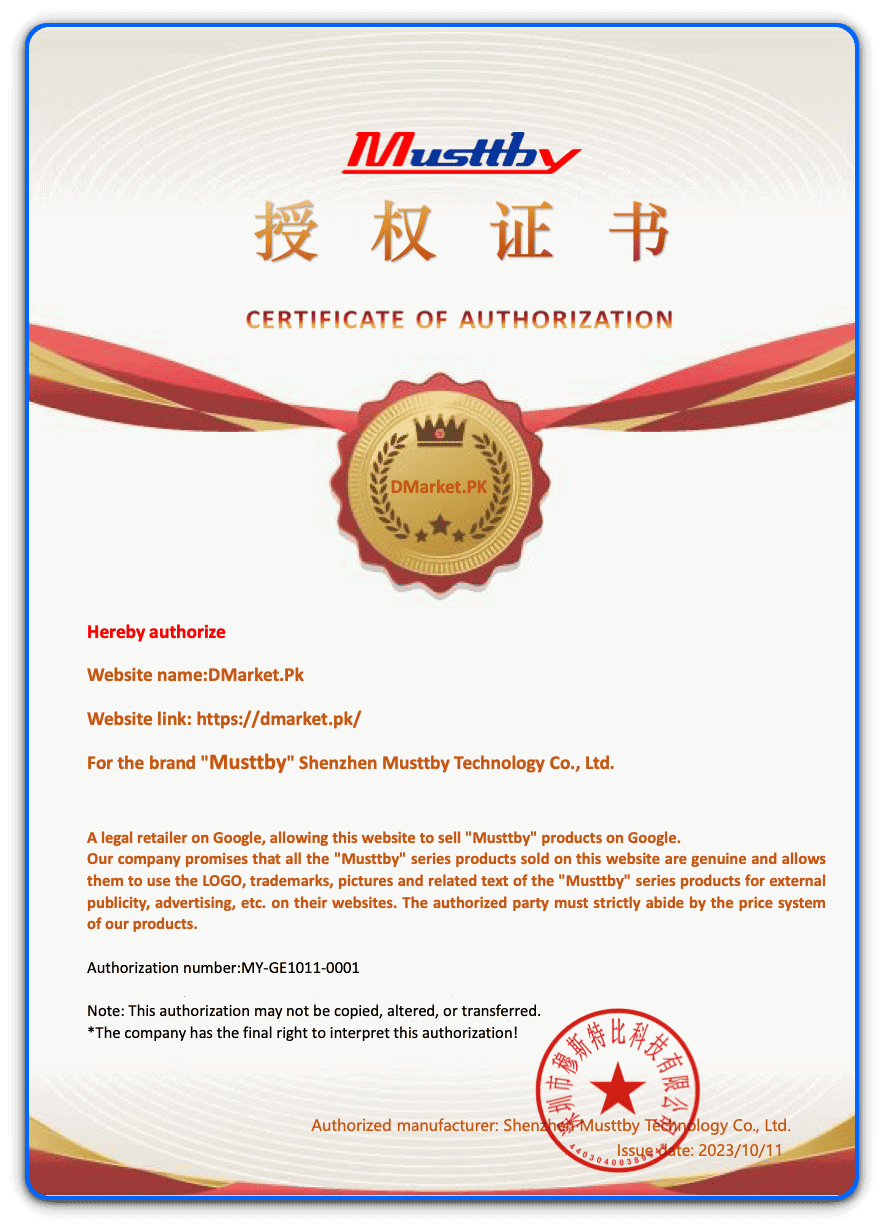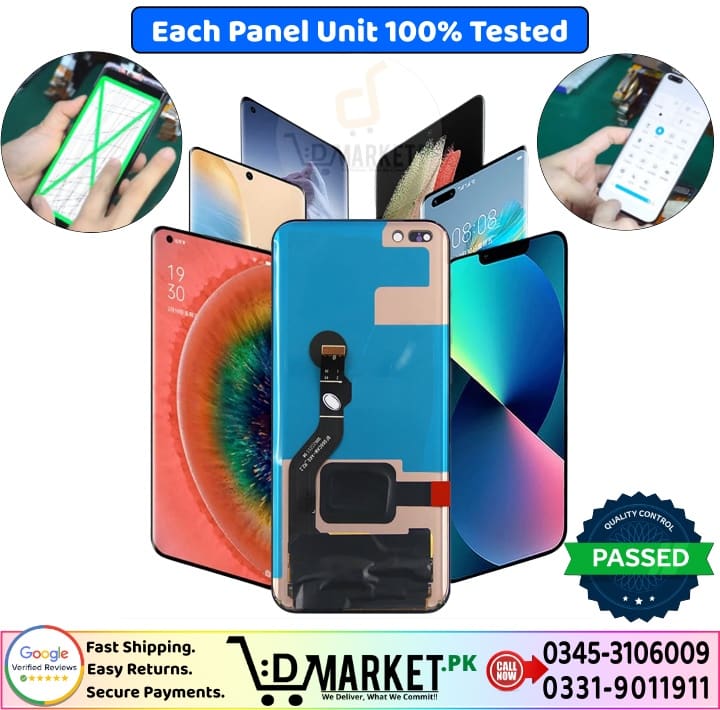 ---
Motorola Moto G Power 2022 Replacement Display Screen Secure and Meticulous Packing Method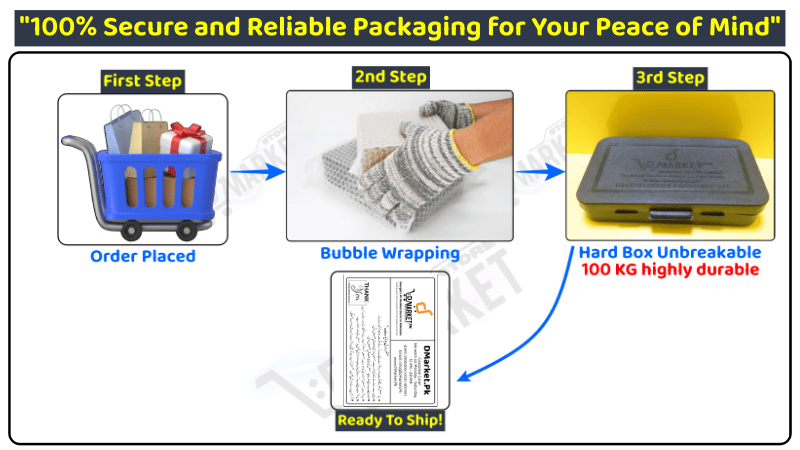 At DMarket.Pk, we employ a meticulous and secure packing method specifically designed for fragile products, honed over our 5 years of experience in the industry.
In the first step, delicate items are expertly wrapped in high-quality bubble wrap to provide an initial layer of protection.
The second step involves securing the product within a robust custom-made hard plastic box, capable of withstanding weights of up to 100kg. This ensures the utmost protection during transit.
As we progress to the third step, the packaged item is placed within a secure envelope, meticulously sealed with tamper-evident stamps to eliminate any concerns related to fraud or scams during the courier process.
Finally, in the fourth step, an additional layer of plastic wrap is carefully applied, guaranteeing both the envelope and your product reach you in an entirely secure condition.
This method not only ensures the safe delivery of fragile products but also reflects our commitment to delivering the highest level of quality and security to our customers.
---
Motorola Moto G Power 2022 LCD Panel Unit Display Replacement Cost!
We offer professional Panel Display Unit Screen replacement services throughout Pakistan. You can send your damaged mobile phone to our lab through a reliable courier service. We employ skilled technicians to ensure a precise and secure fit.
Our replacement displays use high-quality adhesive for superior results. We provide the convenience of Cash On Delivery, allowing you to make the payment upon the safe delivery of your fixed device to your doorstep.
For an accurate quote, please visit our Mobile Repair LAB Page and fill out the form. Our dedicated lab team will promptly contact you via WhatsApp. Rest assured, our skilled technicians utilize high-quality A++ grade tools and parts for exceptional repairs. Experience a superior repair service by choosing us!
---
How Do I Fix Motorola Moto G Power 2022 LCD Panel Unit? 
Motorola Moto G Power 2022 LCD Unit Panel Connect to your phone motherboard without actually completely fitting the product and without removing any protection film.
Motorola Moto G Power 2022 LCD Panel Test functionality. If the product seem to be working fine, then attach the product to the phone and try to use the product for few hours, again without removing the protection warranty film and don't paste glue.

When you are totally satisfied with the product functionality, you can now remove all the protection warranty film and use your phone normally.

Removing the Warranty Protector Or Applying Glue Indicates Acceptance of the Product & It's Worked Perfectly.
---
Why DMarket.Pk is No. 1 Best Online Portal in Pakistan
Our valued customers are spread throughout Pakistan, and we take pride in our top-quality reputation within this industry.

Our company ranks as Google #1 choice in Pakistan.

We offer an extensive range of mobile, tablet, laptop, and smartwatch spare parts. Anything you need, we can provide.

If you do not find suitable Mobile Phones, Tablet & Apple Watches Part's. We will struggle to supply the searched product As Soon As Possible. Just Submit Parts Request Form.

Our professional QC team ensures that the quality of our parts remains top-notch, guaranteeing that your money is well-invested. Doing business with us means you get the right goods

We are known for offering the lowest prices in Pakistan. Additionally, for the last 16 years, we have been serving as an offline wholesaler for Mobile Parts LCD Touch Panel Units.
---
Different Type Of Mobile Phone LCD LED Display Combo Unit Panel Available at DMarket.Pk
TFT LCD – (Thin Film Transistor technology)

IPS-LCD – (In-Place Switching)

OLED – (Organic Light Emitting Diode)

AMOLED – (Active-Matrix Organic Light-Emitting Diode)

Super AMOLED displays
TFT LCD: A thin-film transistor liquid crystal display (TFT LCD) is a type of liquid crystal display (LCD) that makes use of thin-film transistor technology in order to improve qualities such as contrast and addressability. TFT technology means that an individual transistor is used to drive each individual pixel, allowing for faster response times.

InCell: In-cell displays are revolutionary in the sense that they combine a digitizer, use touch input, and integrate an LCD screen into a single-layer display. Some reports also suggest that in-cell technology displays provide better resolution compared to standard LCD screens.
IPS LCD: IPS LCDs are the next level of TFT LCD displays providing wider viewing angles and lower power consumption which leads to much-improved battery life. IPS-LCDs obviously are costlier than normal TFT LCD.
OLED: This happens to be the newest technology in for displays of mobiles and monitors. As far as the OLED tech is concerned you will find an organic material which is placed between two conducting sheets (an anode and a cathode), which are also put between a glass top plate (seal) and a glass-bottom plate (substrate).
AMOLED: AMOLED is a different type of OLED displays for mobiles and are fast gaining popularity in the top-end smartphone segment. AMOLED screens can show us many things that we are present on OLED display like brilliant color reproduction, lightweight, good battery life, proper brightness, etc.
Super AMOLED: Super AMOLED displays take upon the AMOLED displays and is primarily developed by Samsung. Super AMOLED is constructed with touch sensors placed on the display itself, as opposed to creating a separate touch-sensitive layer (as in capacitive touch screen). This makes it the thinnest display technology on the market. Super AMOLED displays are currently only present in Samsung devices but more phones could use the technology in the future.
---
Motorola Moto G Power 2022 LCD Display Touch Screen Digitizer FeedBack
If you are satisfied with our service and product, please leave us positive feedback, and we will give you good geed feedback soon. If you are not satisfied with our service or products, hope you can give us an opportunity to make things better before you leave negative feedback.
Please contact us for the first time if you have any complain, we will listen to you patiently, and try our best to help you solve the problems until you are happy. Business is not easy, hope we can understand with each other, the aim of us for a long time cooperation, never let you down.
---
Disclaimer:
Motorola Moto G Power 2022 LCD Replacement Display Touch Screen Digitizer Price is updated on regular basis from the authentic sources of Factories and official dealers. Additionally, the product images uploaded are for demonstration purposes, and the actual product may have slight differences from the image.